How was everyone's weekend? Cold? Snowy?
We got zero snow and I was so disappointed because it was 35 and raining, and I just really felt like we should have gotten a snow day for the kids out of that. But instead it was drizzly, gross and too windy and wet for us to really play outside which led to an all out free for all around here. On the bright side, it did spur me into organizing the playroom (which I do about once a month anyway) and the pantry which was in desperate need.
Back to the cold though,while we were cooped up I started thinking about all the fun things we will get to do outside this spring. Or tomorrow. Seriously, flip a coin and it's probably just as accurate.
One thing I am really looking forward to is putting some more effort into our outdoor living space this year, especially our garden.
It's lovely isn't it?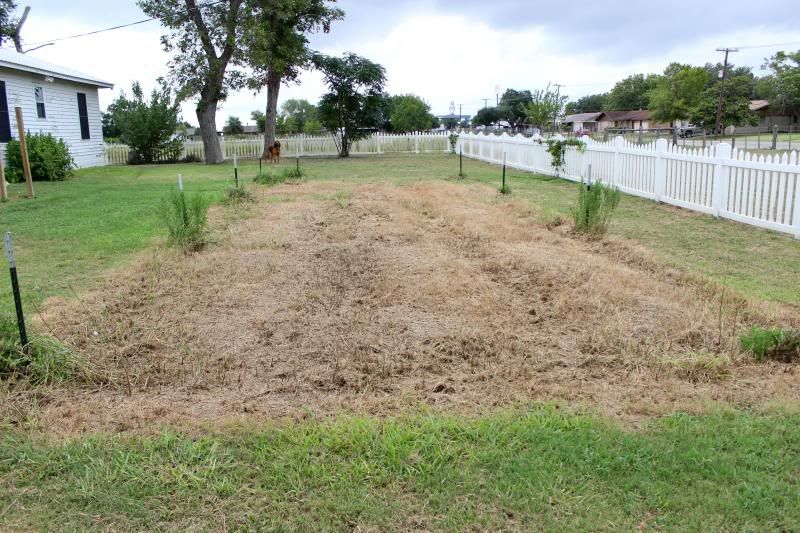 What?? Tell me that brown patch of whatever it is doesn't look like it's just
teeming
with growing potential!
Ok, well maybe it doesn't. It has seen greener days.
Then life caught up with me and it was really hard to keep up with. The next year I was already pregnant again with #3 by february, and there was just no way between morning sickness and chasing a just-turned 1-year-old and 4-year-old around that the garden would be something I could handle. My husband also used to travel constantly for work, so everything was 100% on me and it just was.not.going.to.happen.
Over the last couple of years though, my husband has moved into a position that affords him more time at home, a whole lot more in fact and our kids are older. If you ask me, baby #3
is
most definitely still a baby, but at a little over 2-years-old now, people like to remind me all the time that I do not, in fact, have a baby in my home anymore. Please excuse me while I go cry in the corner.
Anyway, this just finally seemed like the right time to get it up and going again. All of the kids can help, well, at least have fun digging in the dirt.
Dirty kids = Happy Kids
That is a picture of my big girl who will be 8 this summer, just a few months after she turned three. Now I don't think I can leave the house today. Waaahhhhh!
*sniffle sniffle *
And I am excited to learn more about canning, but most of all, I could not be more excited about picking those warm home grown cherry tomatoes right off the vine and eating them. SO good. If you have never had a sun warmed cherry tomato right off the vine, you need to. Put a plant in a pot this spring and just do it, you can thank me later.
I apparently had some wishful thinking going on a couple of years back though because I drew out this whole plan of a garden and even labeled it 'Garden 2012'. I looked it over yesterday and it still looks exactly like what we would need and want for our own fresh, organic veggie garden. The only difference now is my family eats strawberries like they are going out of business, and blackberries have been pushed wayyy to the end of the favorite fruits list, so I will probably switch that to be a strawberry patch and maybe just some cute flowers in the front for the kids to pick and put in small vases around the house or something.
Here's the master plan...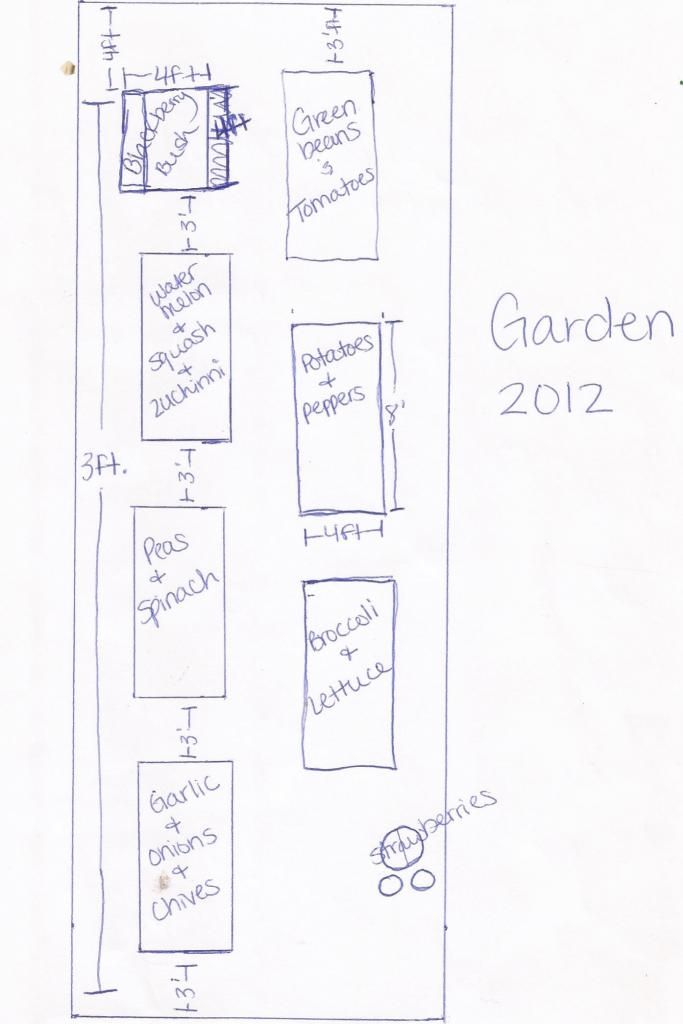 I have pinned some really amazing garden fencing ideas on
Pinterest
, with rustic branch posts. I've also seen some really neat garden marker ideas that I'd love to try my wannabe crafty hands at.
Plus, I am going to have to come up with a good watering system because dragging the hose around for 30 minutes each day isn't really something I want to do. I'd rather lay some PVC pipe irrigation lines and just have a hose to attach and turn the water spigot off an on.
Basically, I have a whole lot of work ahead of me, but I think that the initial input will really set us up for a very productive and easy(-ier) to care for garden not just this year, but hopefully many more to come.
We are zone 8b, and our last day of frost is predicted to be March 11th. We've had a pretty mild winter thus far so I'm thinking that will be pretty accurate. Last year we had a freak freeze in April which is almost unheard of around here thanks to the Polar Vortex declaring himself king of North America, but this year he must be busy because we've only had a few little snaps.
So that means I've got 8 weeks to get things together and seeds usually need to be started 6 weeks ahead of time.
I'm off to go seed hunting.