Because
this bathroom
will, lord help me, never be finished, I just started buying stuff for other rooms of the house. The next room I am
really
excited to work on is the playroom. Currently I'm trying to compile my list of realistic projects for the near future and order them in terms of "1 to way too flipping hot to do anything outdoors so don't even think about it". What that means is a lot of the playroom stuff will be put on the back burner while I (hopefully) tackle a few other projects before it turns into Crematoria out there. 10 points if you can name that movie reference.
But, in the meantime, I am putting my plan together and coming up with a few ideas, most of those ideas are coming from this photograph...
...I did a lot of pinvestigating, and I cannot for the life of me find the source of this playroom. I found it one night in what seemed like a pretty short amount of time, but no dice tonight. I'll update with proper credit when I can...
Ok, so back to my planning. I love, love, with a capital "L", LOVE this playroom. And guess where the rug is from? Ikea. Naturally.
But it is $300
on sale
and I've seen this exact rug featured in numerous other rooms on design blogs, articles and pinterest pins so I set out to find something similar, but a little more unique. That was when the 80% off Rugs USA e-mail pinged onto my phone, and I knew it was a sign.
Cut to a few weeks later, and
only
(I realize that's a very relative term) $294 dollars including tax and shipping later, this pretty little thing landed in our playroom: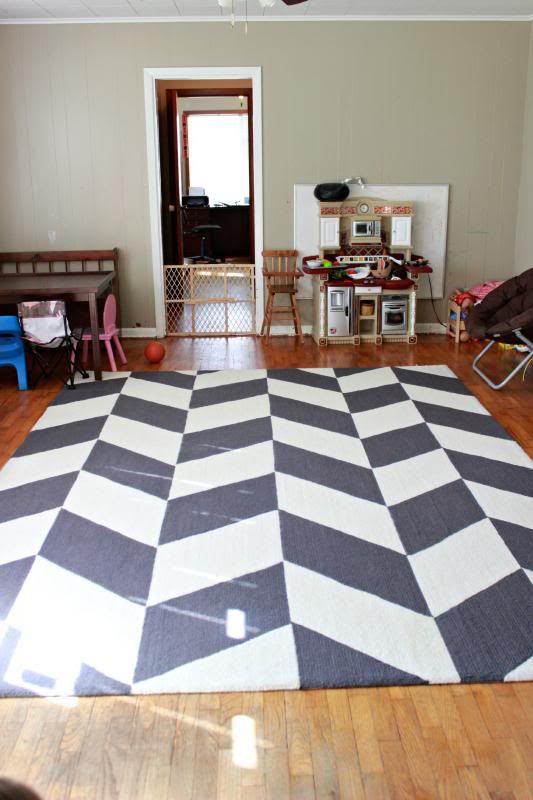 I am crushing on this rug so hard right now. It makes the room feel so much bigger, and I feel like it really hits close to what I liked but with it's own personality.
And my sweet little baby bomber is never too far out of frame
I also, completely by luck, scored this amazingly awesome bird cage that I've been fawning over for at least 2, if not closer to 3, years.
It was in use in my local flower shop. It was home to two little parakeet lovelies, except one of them liked to kill the others and he eventually got too messy so the owner took him back home and put the cage up. (I know, what a romantic story right?) Anyway, the owner just so happened to be ringing me up and I asked her where they went. She told me the story and when I told her how much I loved that bird cage she raised and eyebrow and said "Oh really? I'll make you a deal". I had to bite my tongue
really
hard not to just blurt out "SOLD" before she even named her price, but then she said $100 and stars came shooting out of my eyes, and now it's sitting in my living room on the floor because I have no where to put it because it's huge and impulsive purchases are the best. *deep breath*
It's got this neat little swirly thing for nest building I suppose
And it's just an all around sweet looking piece of metal
That's it for now. I had every intention of painting our front door today, but then I saw the forecast called for nothing but rain. I just decided we'd go for a long walk/jog before it started, and I scrapped those plans for another day. Does it make me a bad mom if I'm just hoping the rain means little league practice is cancelled for tonight??
Have a good humpday y'all!