One of my favorite things to do is buy lots of supplies for projects that I never start. I have
the best
intentions y'all, but I usually have a list of 12 million other things to do that are more important, like watching the DVR'd episode of Keeping up With the Kardashians while the kids are napping and eating lunch.
Ok, I'm not really doing any favors for the stereotype of stay-at-home moms eating bonbons and sitting around all day. I'm joking. I work my butt off, it's just when I finally
do
have time to tackle a project, well
that's
when I'm all "Nuh-uh, not gonna happen right now."
But in testament to the fact that I have slept through the night like a real person for nearly two weeks straight now (after 3 long years, yes years), I decided to finally tick off at least one of the 50 million items on my "To-Do" list for around the house.
Here is what our dining room chairs looked like earlier today....
Nothing wrong with them, but they were hard to keep clean, and they were rather blah. My in-laws bought these for me as a birthday present a few years back, and even then my mother-in-law pointed out that they were great neutrals but that they could easily be covered and changed into any pattern or color I liked.
So it took me a few years, but I finally did it. Well, OK half of it because my stupid staple gun crapped out on me and I only got three finished, but I would have finished them!
I chose an indoor/outdoor fabric so that it would be easy to clean. I also plan on spraying it down with a coat of Scotchgard so it might last longer than a day. But once you get that out of the way, then first thing first, flip your (clean) chair over: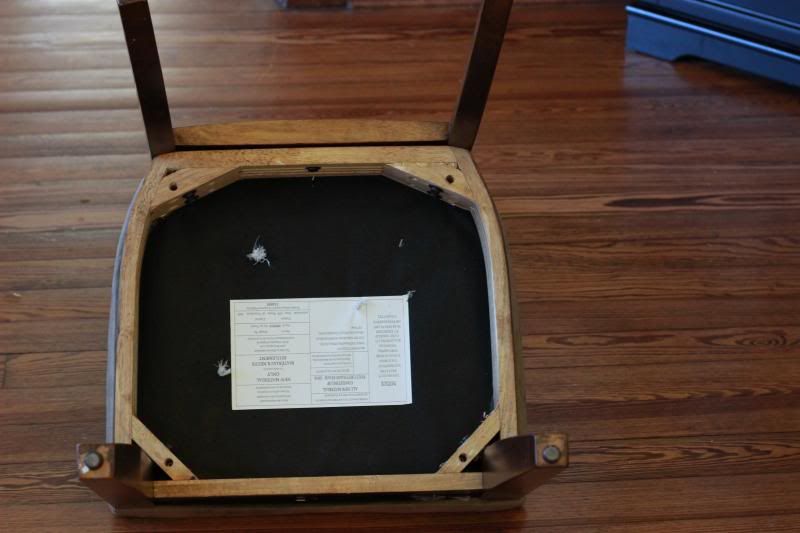 Many will have screws, or some way to detach the fabric covered seat from the chair itself
It's always good if the helper you planned on napping while you did this wakes up as soon as you start. Double points if he shows up with a sucker and you have no idea how he got it.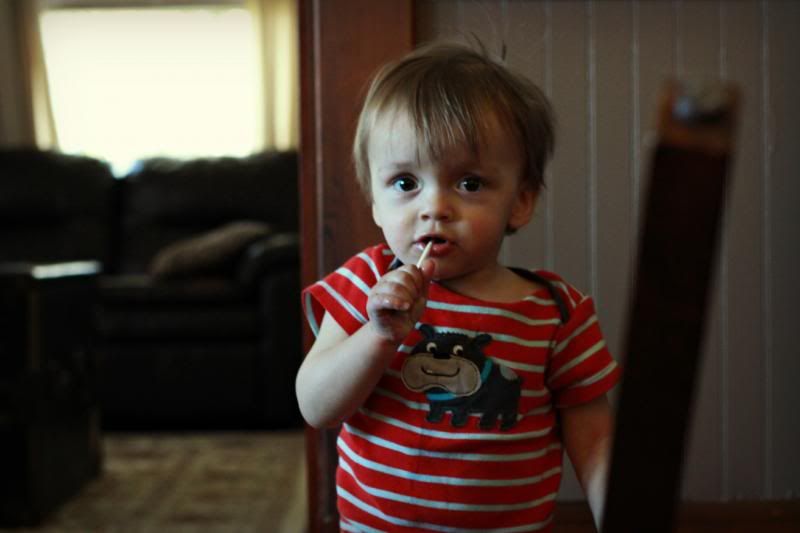 Then I laid out my fabric and since it has a pattern I set the seat underneath it to insure I got the pattern placed where I wanted it, then I cut the fabric with about 4 inches out on each side to have ample room to pull it over the seat and staple it down.
It's kind of hard to see but it's under there...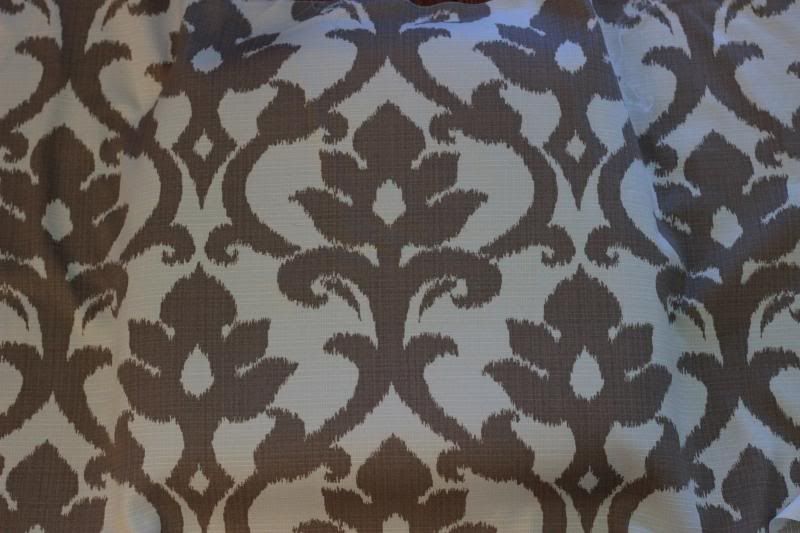 When I had the material cut and pattern where I wanted it, I carefully wrapped it up like a Christmas present and flipped it over
Then I started with the straightest sides, and put in three staples to help keep everything in place, then flipped it over to check it and make sure everything stayed where it's supposed to be
You can put in 20 staples if you'd like, but I find the less you can get away with the better. That way if you realize something is a bit wonky as you turn it over and check it, there aren't too many to pull out. It does happen sometimes though, and to tell the truth, if it's sturdy fabric, I just pull up quickly and evenly with some force on the fabric and it will pop the staple right out.
As you get it all stapled down, including those pesky edges, continue checking the front to make sure it looks right, and then you can trim off the excess until your finished product looks like so: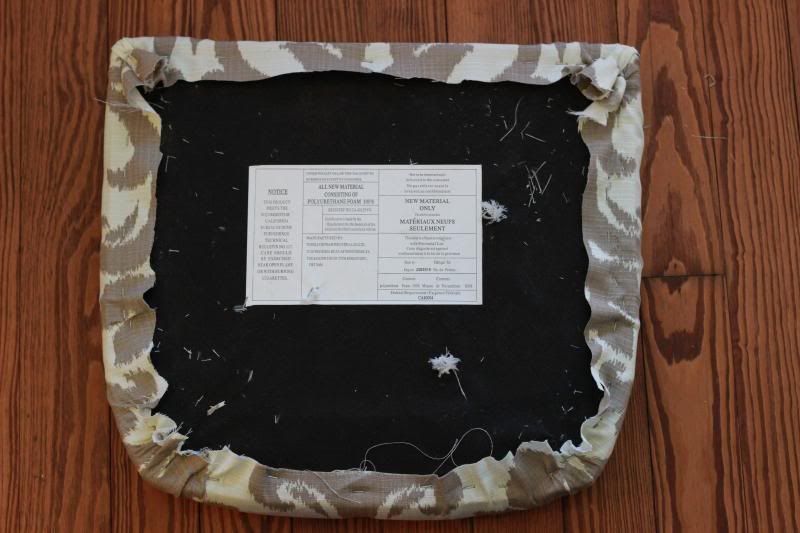 Then screw that bad boy back on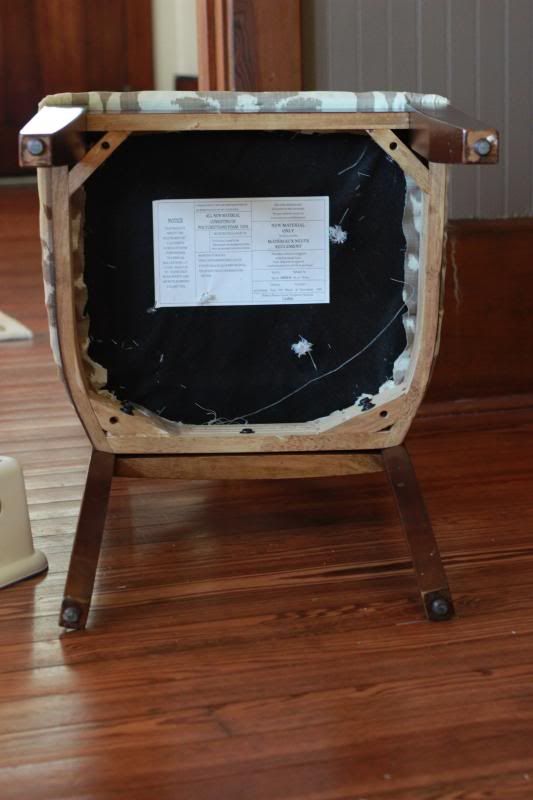 And there you have it, a nicely updated chair
Quality Control came to make their inspections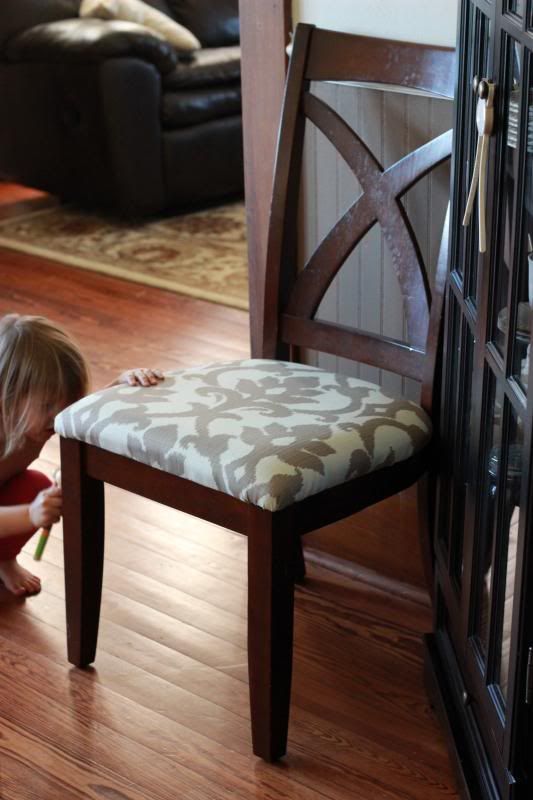 Anyone else see all those little bitty fingerprints?
Here is a close-up of sorts of the fabric
And here it is "in action". Still pretty bare in there, but you get the picture. Pay no attention to the chair furthest to the right that didn't make the cut before the fact that I was using the wrong staples in my staple gun caught up to me.
Have a chair you think could use a little freshening up?
I got my fabric here at
Fabric.com
This is the navy, I don't see the beige anywhere :( But they have tons of amazing fabrics to choose from.
Need to add some extra stain repellent
because you have children and can't have nice things
for those wayward dinner mishaps? *amazon affiliate* Grab you some Scotchgard
here
Or need a staple gun?*amazon affiliate* Get one
here
Happy Valentine's Day!
XOXO