We're just going to pretend that I didn't post anything for over a month and pick up right where we left off. Ok? Ok.
April was a really busy month, and that whole being intentional new years resolution I made? Well, I definitely got to put that to use as I intentionally watched episode after episode of The Walking Dead, or did yoga, or did both simultaneously, instead of blogging. It felt good, real good.
But now I'm back!
I said in my last post that there were lots of outside projects I was going to be working on before it turned into the surface of the sun (with mosquitoes!) outside. So I'll show the beginning of one of those.
Let me start by saying I CANNOT believe I talked my husband into doing this. He is NOT a diy'er. Like, at all y'all. So how I pulled this feat off I will never know, but I am so happy I did.
First thing first, I got the entire idea and plans from
The Handmade Home
.
My inspiration (or pinspiration if you will, since that's where I found this blog):
photo via The Handmade Home
Their handmade hideaway, as they call it, is so beautiful. I am so tempted to just copy the entire thing exactly, but then another part of me wants to find my own style. Since I haven't painted yet, and it
poured
here today thwarting my attempts to possibly paint this weekend, I still have time to decide.
I didn't take any step by step photos as you'll be able to see it all in the link I posted above, but I have a few in progress shots from
Instagram
...
The deck and framed out walls!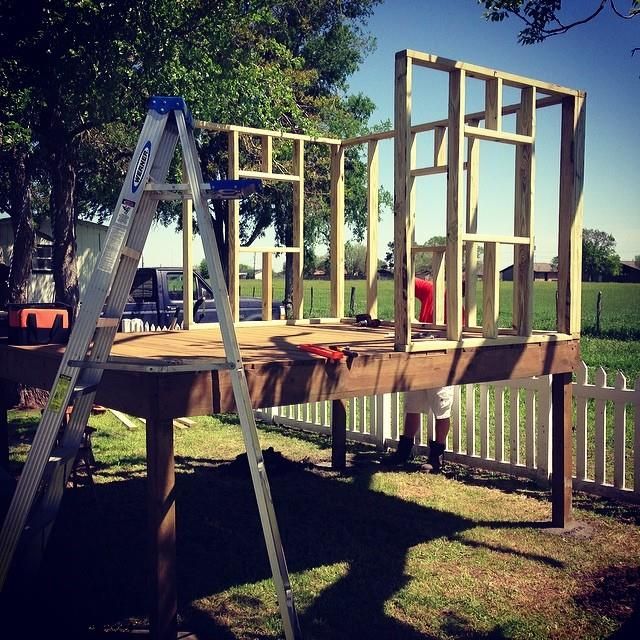 Sister staking claim that this is *her* fort thankyousoverymuch
In action after school one day
The crazy thing is, we even have the exact same picnic table I can paint. So many choices! Will definitely be updating soon as the roof goes on and I get to decorating.
Everyone have a great Mother's Day Weekend!