Spring is here! Spring is here! Spring is here!
If you are anything like me, you have been chomping at the bit to go outside and plant something. We have a lot of yard, and that little part of my brain that sees the potential in everything just goes into overdrive, but I think I'm doing a better job at scaling it back and focusing on a few key areas so I can oh I don't know, actually get something accomplished this spring/summer.
One in particular is a window box that has been hanging on the side of our house for ohhh... two years? That I have not ever planted a single.thing in. That finally changed.
One obstacle that was a little annoying to me was the whole coconut husk thing. I went to buy one and had no clue the exact measurements of my window box, especially since it's a curved shape. The lady at the flower shop is all "Oh well, we have to cut it, and it's priced by the foot (read: expensive)" and that just seemed like more than I wanted to do. So it sat, and sat.
Then I came across t
his pin
from
BeesKneesBungalow.com
. It didn't take a rocket scientist to figure out from the picture how to use burlap to line your flower boxes.
Sidenote: I can't tell you how many times I am scrolling through Pinterest and see something and think, "How did I not think of that?!"
So I immediately set out to amazon to order me some burlap... and a few months later (because I am nothing if not a procrastinator extraordinaire) this happened...



Window box, meet 2 yards of burlap...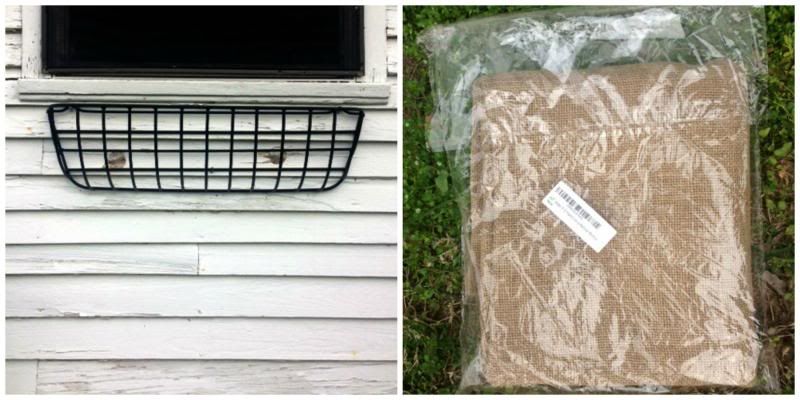 I left it folded in half once lengthwise, then folded it in fourths and tucked it into the window box. I don't have great pictures of that because it was a spur of the moment thing, but just fold and mess with it to get it to fit in there semi-pretty. Once the weight of the dirt is in it you can tweak edges and things more
Again, not great pictures (taken with my phone while perched on a step ladder) but next getchya some good potting soil and some pretty flowers, pop those babies in there and water them down, just like in a pot.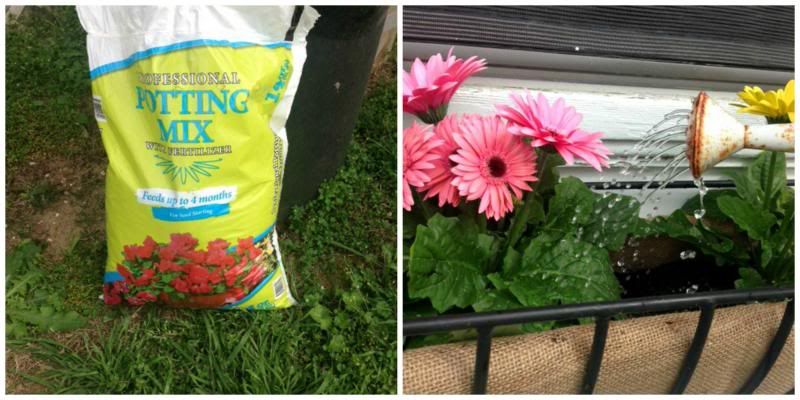 And there you have it...
Flowers that, just 36 hours after planting, will wilt and die in a semi-freak freeze when the weather drops from 80 degrees to 28 (!!!) in less than a day.
A few weeks later though, your window box can look like this...
Again with the iphone pictures (sorry).
The flowers are, in the beginning, Gerbera daisies picked out by my oldest, and the flowers currently planted post-freeze are Purple Tidal Wave Petunias picked out by yours truly, there are also some other flowers in there but you can't see them because they are still so little, it will hopefully be filling out a bit better in the coming weeks.
The window box I got from my local flower shop, so check out yours or your target/walmart. I only found one looking at amazon, but truth be told, it looked cheap-o and had no ratings so I really can't recommend it.
And here is the exact fabric I ordered:
40-inch, 2 yard long burlap
Hope you're enjoying the sun as much as we are!