If a mouse looks at Etsy for jewelry, she might also search for bathroom decor.
If a mouse searches for bathroom decor, she might see jellyfish themed towels.
If she sees jellyfish themed towels, she will also search jellyfish in general because jellyfish are awesome.
If she searches for jellyfish in general, she just might find these bad boys...
Then she might rethink the entire concept for her bathroom she's been working on.
And if she rethinks her entire color and decor concept, then she'll have to find something else to do around the house.
*********************************************************************************
So I'm
still
not done with the kids' bathroom. But I am really stoked for what I came up with.
In the meantime, I needed to fix up
something
around the house, and because well dang, I haven't had a post in over a month!
So I found the saddest looking/most disorganized corner of the playroom: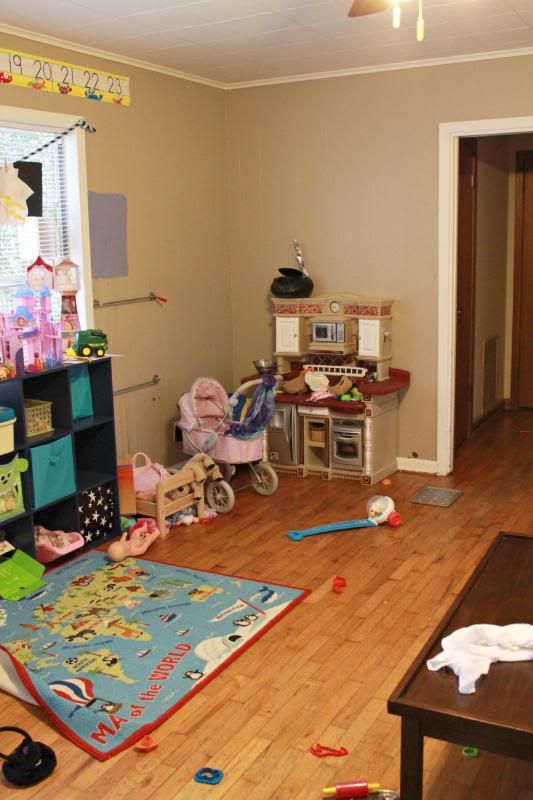 Sometimes I walk in our playroom and think, "Man, this is really coming along!" Then I take pictures of it for other people to look at and nope. Just nope.
Here's a broader view of that side of the room. I initially made a sort of "circle time" area there on the right, except we rarely use it for that purpose and it's a giant rectangle of space largely unused, so I've decided to fix that.
Here is the very beginning of what I'm going to turn into our Make Believe center. It can be a house, a restaurant, a vet's office, a castle. You get the picture. But for now, it's a kitchen, a white board, and a broken baby bed.
One trait that I really like about myself is that I can see the potential in things. I can look past a lot of imperfections and see what something can become. This has helped me in a lot of ways in life. But sometimes, well, sometimes people probably think I'm really crazy. That's OK though, they can't hear it, but I can hear the beat of my drum loud and clear. And this little house is getting there.
And the other corner.
I moved a bench/toy chest that my husband and his sister had when they were little into the corner, then popped our taller legs on our activity table and
voila
. This corner obviously still needs a lot of work, too. Namely, paint. That square of purple paint has been staring at me for a good 3.5 years. It has yet to bother me enough to actually spur me into action. Almost, though.
There's another, seafoam colored swatch on the other side of the room. And a giant purple one in our bedroom, and a navy and billiard green colored one in the laundry room. Once upon a time I thought if I did this then we'd
have
to paint and couldn't put it off any longer.
Ha.
Ha ha ha. Ha.
Right.
And sorry for crappy picture quality, I usually have a lot working against me.
Like this:
Here's to more beautiful corners. Coming soon.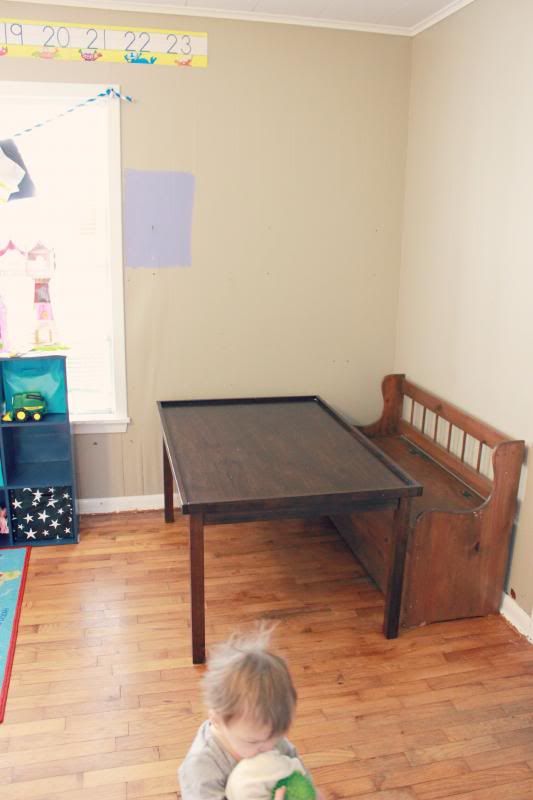 Baby Bomb!