So I know that chevron print is
everywhere
right now, as in, it's revving it's motorcycle engine and about to jump the shark any second now.
That being said, I love it. It's so trendy and 'right now' and I want some of it somewhere in my home. I'm way late to this party, I know, but I decided on some lower key pieces, things that can easily be changed out in the future, to fill my need for those pretty zig-zags.
First up was the baby's night side table that I use next to his rocking chair. I'm sure somewhere along the line I saw something similar, but I like to think this idea just came to me.
Alright, so first, a little break down...
1. You need a table. I bought mine off of our local Buy/Sell/Trade page on facebook $5
2.Some painters tape. You can buy the skinny stuff or wide, just make sure it fits $3
your design
3.Fine grit sand paper for roughing up the surface if needed $2
4.Can of spray paint in your chosen color $5
5.Acrylic paint for chevron design (can use any type of paint; this is what I used) $1
GRAND TOTAL: $16
It really bothers me when I see tutorials that are all "DIY Dresser only $10!!" Then they proceed to list $150 worth of stuff they
already had on hand
. I just don't think that's a fair assessment. So for any projects I post I will always post the official start and finish cost as if you had zero supplies to start with, then if you do have some things stashed away already, well, that's just gravy baby.
First I sanded the top with some fine git sand paper since it was really smooth
Then get your can of spray paint, or latex paint leftover from another project, or milk paint, or chalk paint... you get the picture
And get to paintin'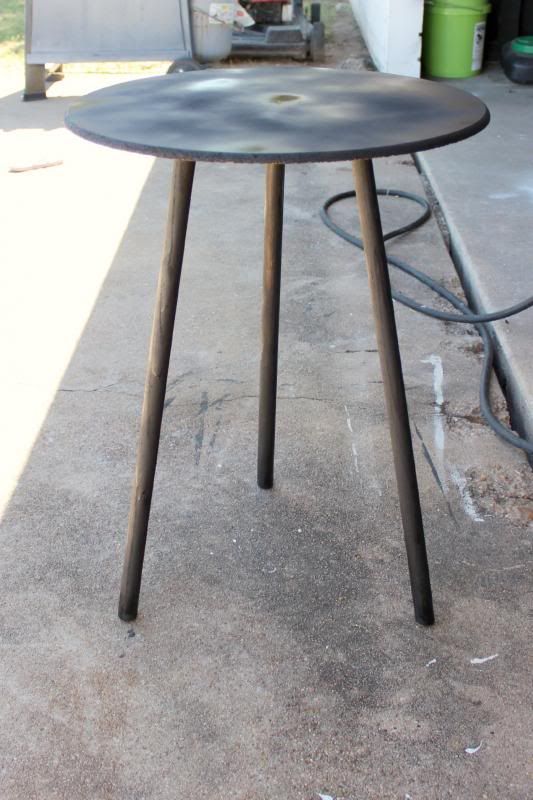 The baby woke up at this point so I have no more pictures, but I did come back and finish and then brought it inside to dry and start the chevron design the next day
After attempting to draw dots and connect them to make the chevron pattern directly on the table, I finally give in to the fact that spatial concepts are probably my biggest weakness and decided to draw a stencil
I started by drawing dots every 3 inches along a straight edge.
Then 1 1/2 inches below that, I did the same every three inches, but centered under the dots above
Then I played connect-the-dots, drawing a line from one dot to the next closest dot.
Clear as mud? I suck at explaining so here's a picture:
;
It's just triangles folks
Then I drew dots exactly 2 inches below my exisiting dots... like so:
Then I connected those lines and voila: Chevron!
Then I cut that sucker out
I placed it approximately in the center and traced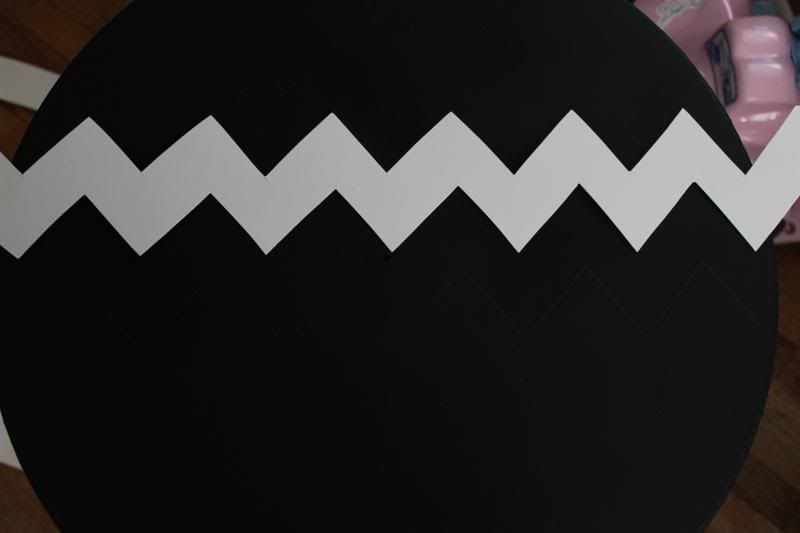 Then just moved it up to match and traced again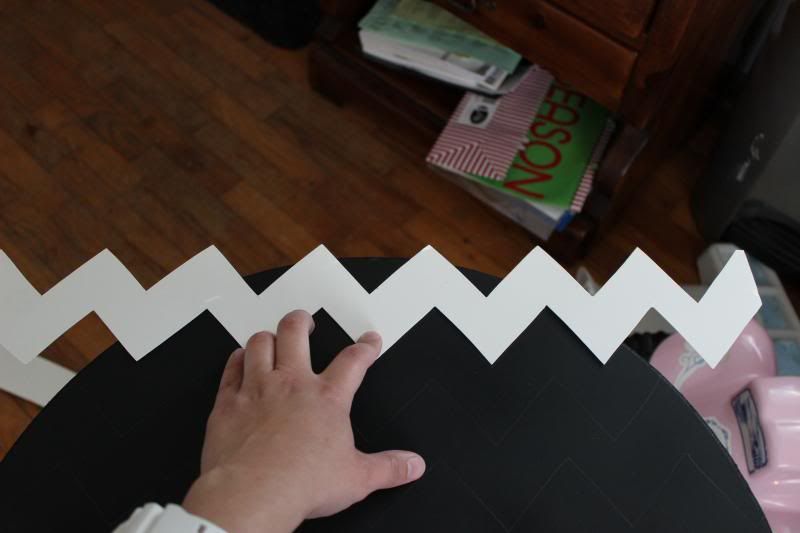 Until the whole table was covered...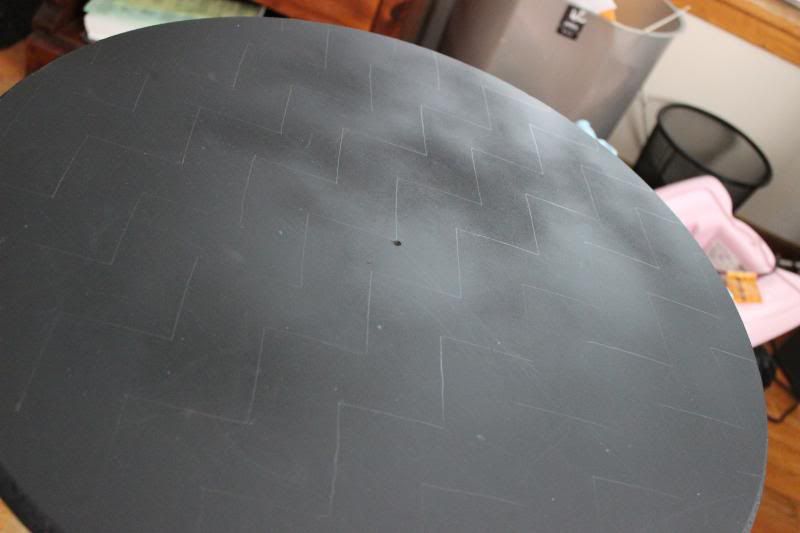 Then I started to tape, and at first I would put two pieces down then trim them to look like this...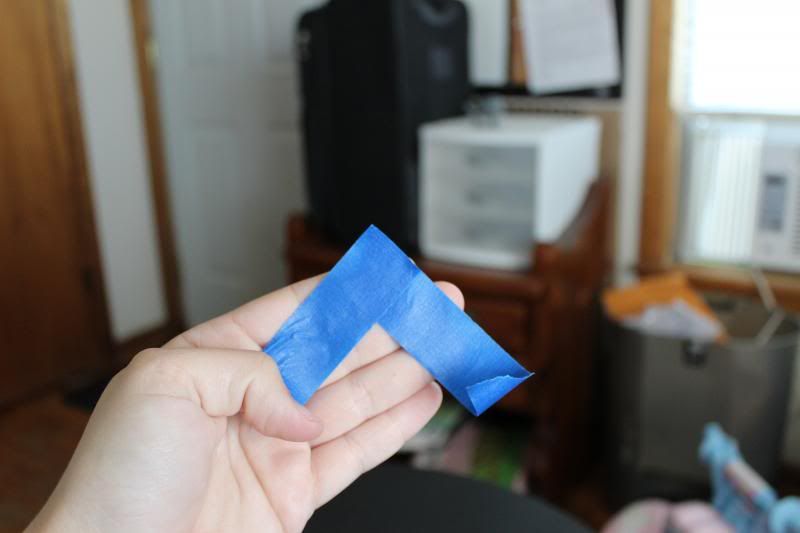 It took
FOREVER
. So I devised a new method and started cutting the tape at an angle like so: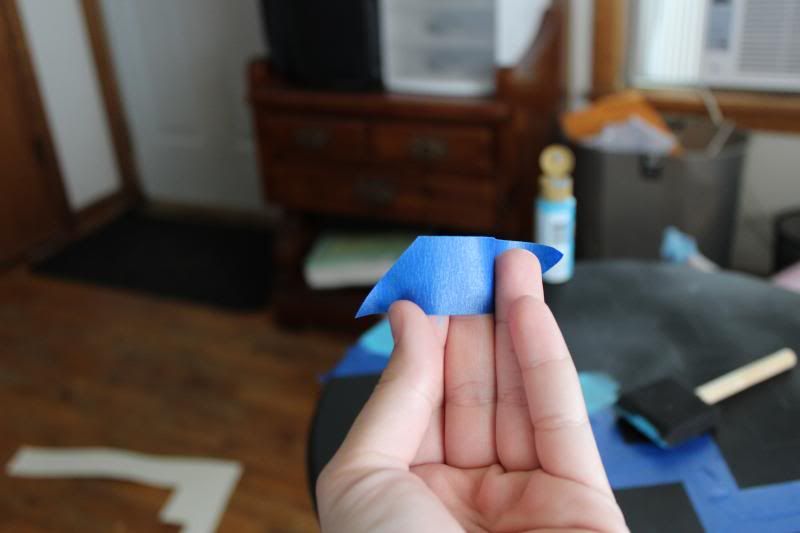 It doesn't have to be at any special angle, just at a diagonal, because then you can match it however you need to cover half of a point, like this...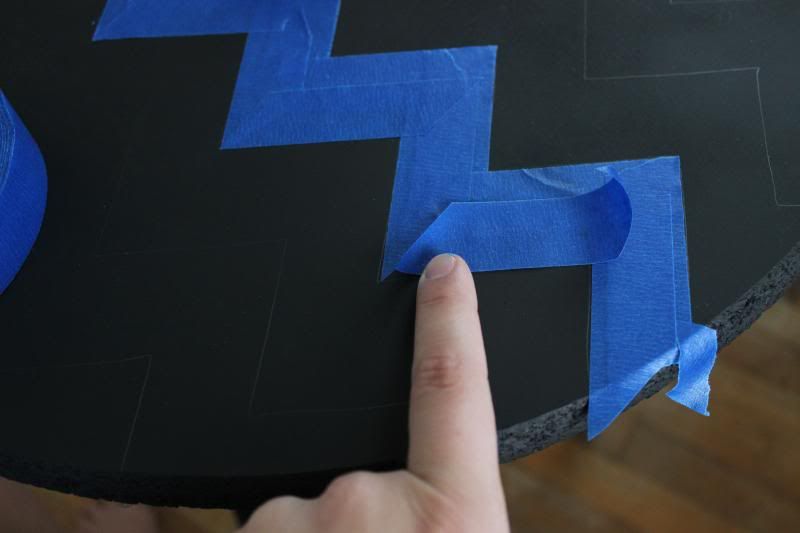 Because I didn't plan ahead very well, I had to double my tape so it overlapped in order to cover the complete inside of the zig zag. If you use thicker tape and plan it to be the exact width, then you wouldn't have to use quite so much. All said and done, here is what it looks like all taped off using the diagonal cutting method. Once I figured this out, it took a grand total of 10 minutes to tape the whole table. P.S If you cut the diagonals "to the right" then you'll need to cut them "to the left" to cover the other side. I know I'm sorry that may not make any sense, but you'll basically need to cut your tape like a trapezoid. Google is your friend, if like me, you are all "What the hell is a trapezoid, again??" Also, in the pictures here, I was cutting them as parallelograms. Don't be like me. OK, moving on.
Then just start painting!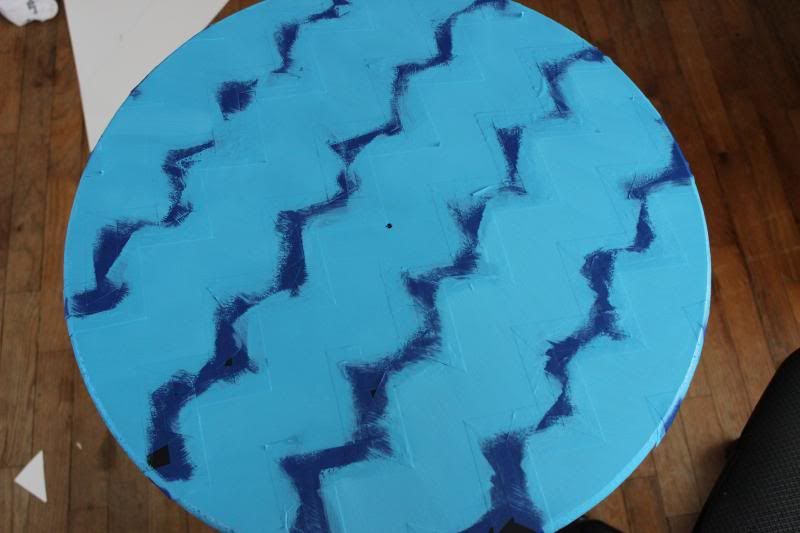 A tip to keep your paint from running underneath the tape... use a small paint brush and paint along the edges of the tape using whatever color you painted the table. This sort of "seals" the edges, and if you let it dry for 30ish minutes, it will be dry enough to paint over, but still tacky enough that you can easily peel the tape when you're done without it taking the paint with it. I didn't do this, I really thought the messy thing would work in my favor, but it works, promise.
Once you're done painting, peel that bad boy tape off!
Please ignore my heinous floors in our laundry room/office where I painted this, and also that the table is in fact very blue and not green like it shows in the picture above?
And drum roll please....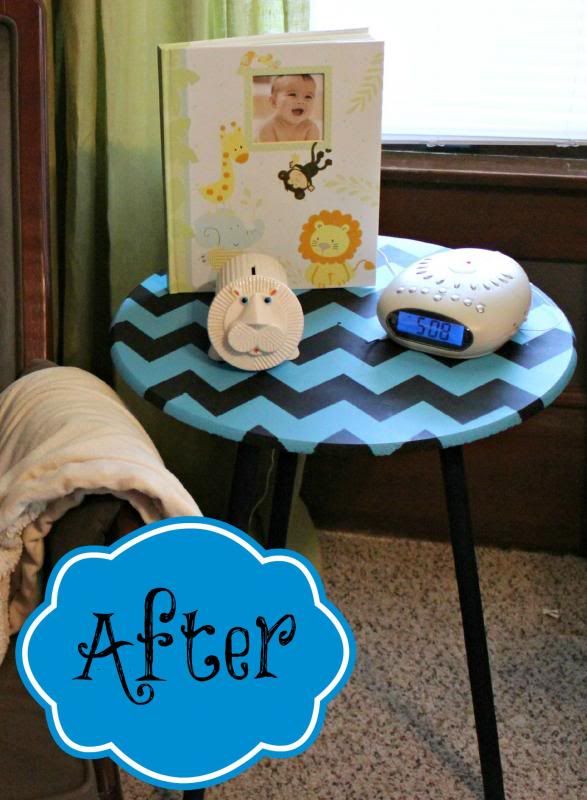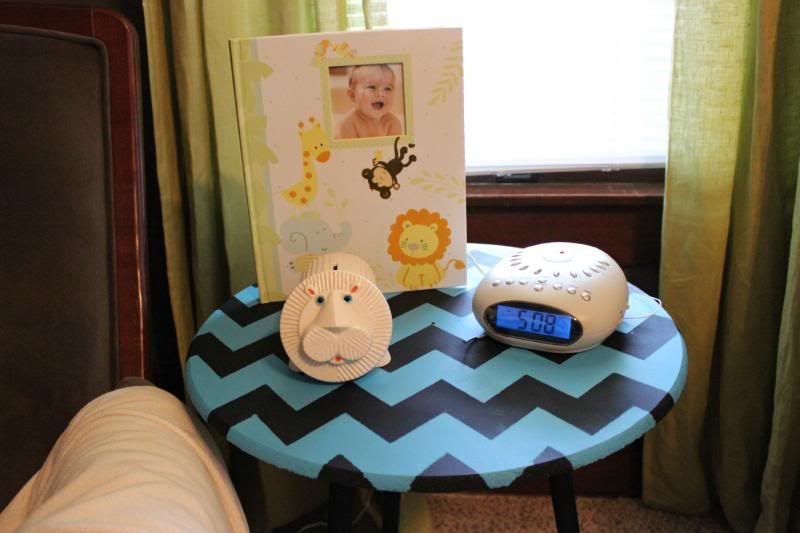 And just to keep it really real... That is
not
a picture of my child in his own baby book (even though, yes mom, I have finally filled it all out), it was definitely not 5 o'clock when I took this picture, and it's also very "noisy" because I had to crank my ISO since I didn't want to wait for the right time to get as much light in his room as possible. It's the details that are really important to me.