I have a list that is pages long of all the different things I want to accomplish around our home. Each room broken down with all of the details listed from big things like paint or curtains, to the smaller things like throw pillows or new frames. To spare everyone reading a bullet point play-by-play, I just thought I'd post pictures of where we are now and talk about the things I hope to see through over the next few weeks, or months. (We moved into this house 3 and a half years ago, so really my time frames are not to be trusted)
I
really
wanted to post the 'before before' pictures of when we first moved in and had zero furniture. Not like, 'oh, it was really bare except the table and couch', but as in there was absolutely nothing in these rooms except some horrid 80's style sheets, which I now wish I still had because they would totally be in style again, hanging over the windows and a office cubby in a random corner of the dining room where I paid bills.
The pictures however have gone missing. My hard drive took a nose dive a while back, everything was restored, but I can't find those really old pictures. Hopefully I'll be able to dig them up somewhere, but in the meantime, we'll start here...
The Living Room:
*Please excuse all finger prints, crumbs, messy pillows, etc. I snapped these yesterday afternoon when I realized I couldn't find the actual 'before' pictures. Just keepin' it real y'all!
Our couches are not my first choice style-wise, but they definitely are for functionality. When I think about all of the things that have been spilled and wiped on them over the last 6 years, I absolutely shudder to think what they would look like if they were cloth. Our coffee table was something that was also picked out 6 years ago, and I'm pretty sure it was picked because it was on display with our couches. Because we're free thinkers like that.
I'd love to replace the coffee table. I'd also like to expand the table in the corner to make it bigger/taller and to maybe replace the lamp with a floor lamp to give that empty wall something to sit against it?
This is the light fixture that I believe was original to the house. I think they are beautiful in their own right, but I'm not sure how in love I am with them for our home.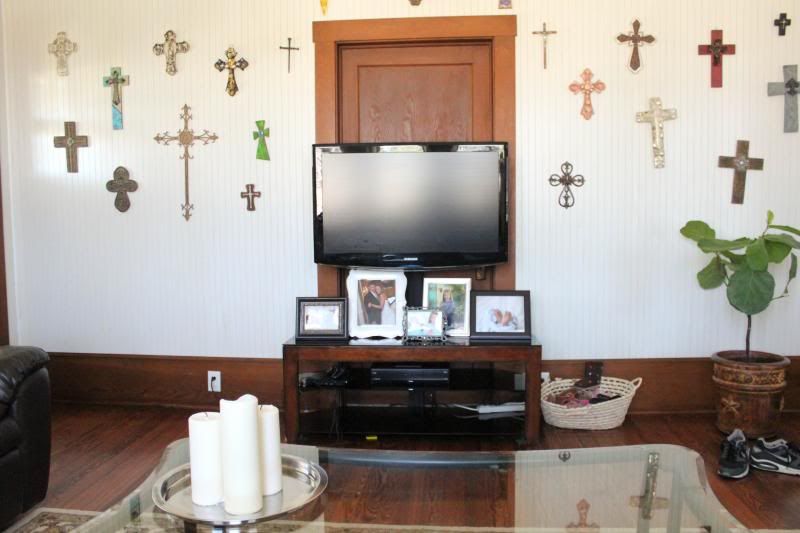 This area is what plagues me the most. I mean, what is that?? The little bitty TV stand pushed up to the door to make it centered. Drives me crazy. We have doors all over the place in our house since it was built in Texas in the early 30's and originally had no central air. All the doors opened to help with circulation and they all closed to help keep in the heat from the wood burning stove. I see a faux fireplace in the future, and hopefully the near future so I can decorate for the holidays! The more I stare at this picture the more bizarre it becomes... moving on....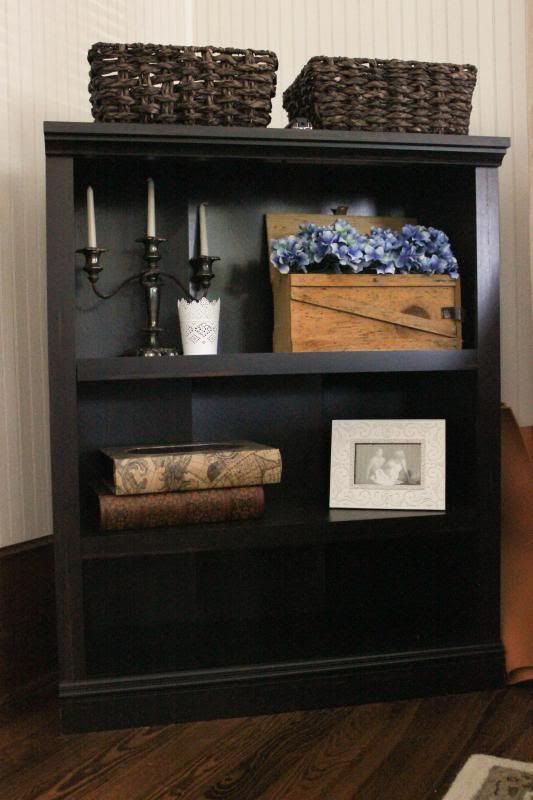 This book shelf was just recently given to us by a family member and I love it, but the height does not go well with our big 10 foot ceilings. For this reason I plan on putting table legs on it, and a basket of blankets underneath it.
And that leads us into the adjoining room,
The Dining Room:
I have made some pretty big strides in the dining room lately. I repainted under the chair rail. It was this awful shade of yellow-green. The curtain rod needs to be bigger, and I wish I could have afforded to get curtains that went all the way to the ceiling, but I think they aren't too shabby. You can see the light fixture peeking out here, and I feel less warm and fuzzy about it than I do the one in the living room. It's centered in the entire room, not over the table, and I'm not sure if it's missing something over the bulbs, or if that's how it's supposed to be, but it's just not very pretty so replacing that is definitely in my plans.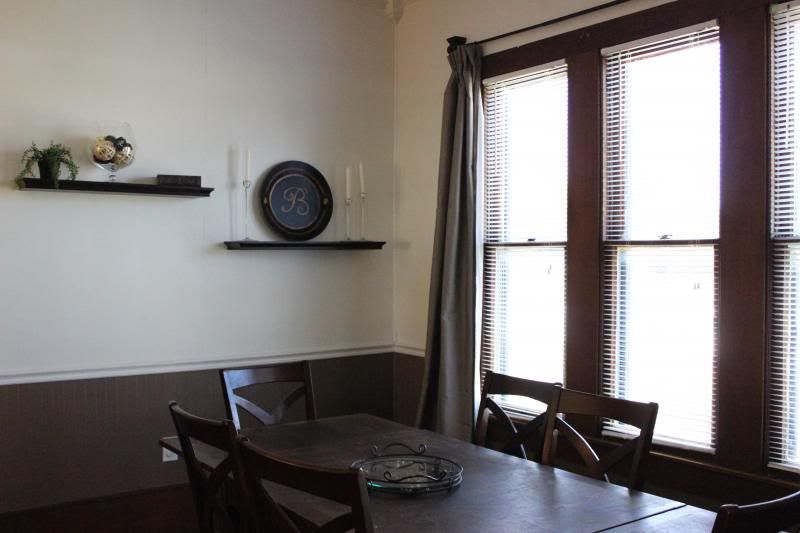 I would also like to maybe build a new table, and recover the chairs/make bench seating. The table is great, but it was a hand me down and does not go with the chairs we have. You can't cross your legs under the table because the space between the top of your leg and the table is so small. I know, first world problems. I just want to create a more comfortable place to sit and eat meals with family and friends.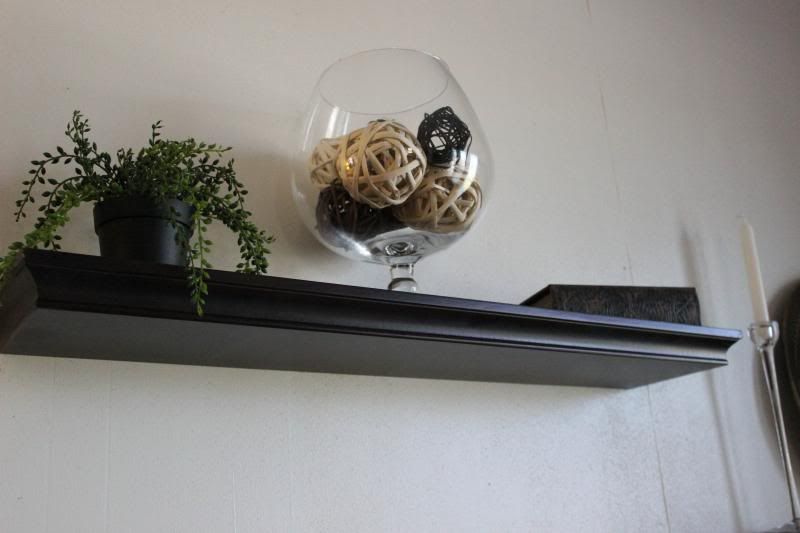 Ah, and the shelves. I bought these babies from Target on clearance for like 8 bucks each and I got what I paid for. I was able to do some modifications to the back so the brackets would actually catch on one another, but they still won't hold very much weight, so in addition to coming up with what I'd like to put on them, I have to make sure the total weight doesn't exceed about 15 pounds.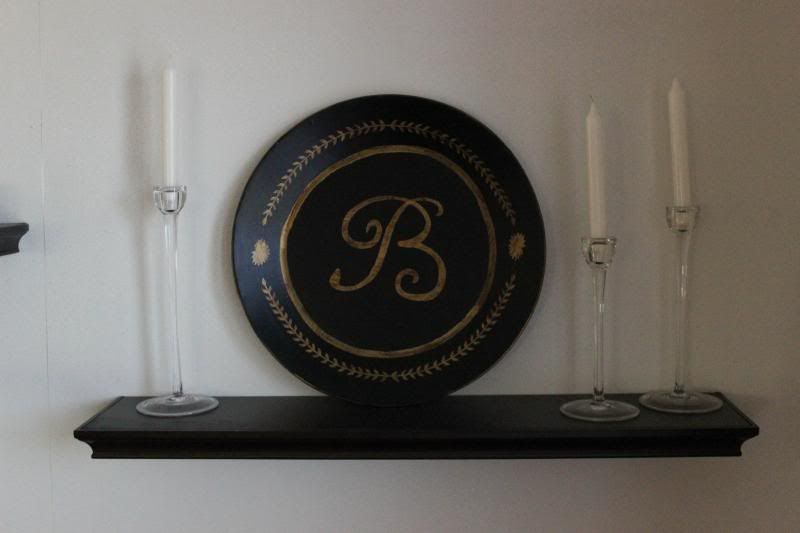 This is all I've got for them so far. Hobby Lobby and Ikea decor! Can I just say how much I love Ikea though? I think I would live there if they let me. Amy + Ikea = Forever.
Hello wittle baby photo-bomber! These pictures were a bit of a challenge to take since my younger daughter was running around like a Greek Olympian and she'd stop and adjust her babies, then run out again and I'd 'snap snap snap' then she'd run back in and I'd wait, then she'd run out and I'd 'snap snap snap'.
Anywhoozle, this is the other side of the dining room. That buffet is a reclaimed piece I made from our old fish tank stand and some boards from our barn that fell when it was hit by a tornado. I will be refinishing the top in a darker stain and I'm wanting to do something else with that mirror above there, but not sure just yet.
The black 'china cabinet' on the side is from Big Lots and until recently housed hundreds of DVDs. I have since moved all of the DVDs into a big zip up binder case and stored all the covers in a big box. I want to put some legs on this bad boy as well, and either paint it, or paint the inside? I've also thought about replacing the glass with chicken wire. I'm willing to hear out any suggestions!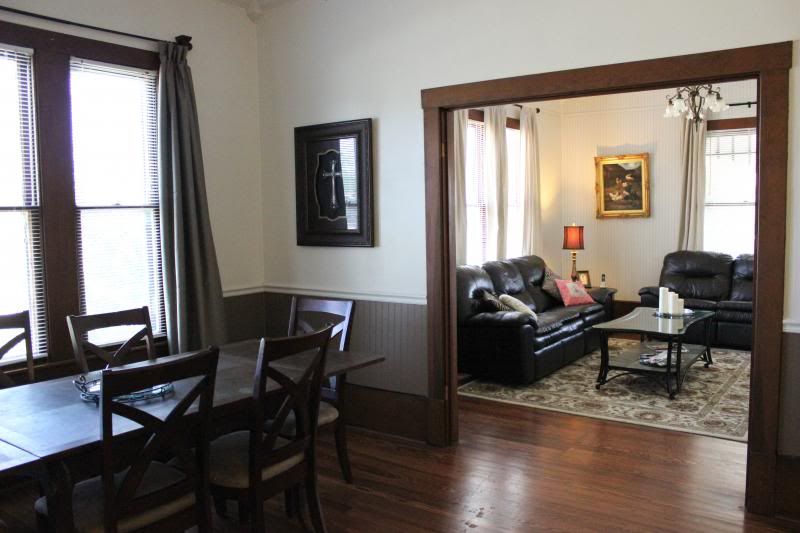 And this is why I grouped the two rooms together. Because of the very large opening that essentially makes them one big room, so that the style and design of one greatly affects the other.
Ugh look at those spots on the floor. They haunt me.