I found my camera cord!
This squash casserole recipe comes from my mother-in-law, and possibly comes from her mother, and possibly comes from Southern Living. All I know is it's absolutely deliciously amazing comfort food that even my little ones gobble down. And while it does in fact have vegetables, it's not the healthiest dish on the block, but after you've had a bite, I promise the amount of butter in it will never cross your mind. OK, maybe a little, but it's so worth it!
Here are the ingredients. 10 bonus points if you get a photo-bombing babe in the shot, too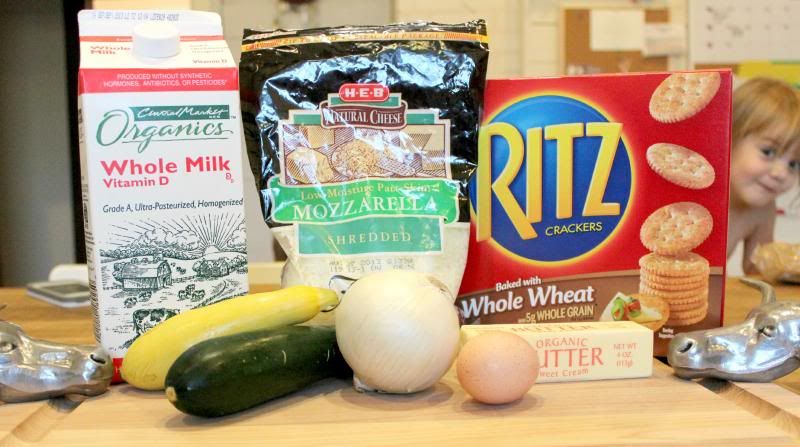 Start your pot a-boilin'
I think the last of my sad looking college cookware need the see their way out the door...
This part is optional, so if you prefer, peel you up some zucchini and yellow squash. You don't have to peel them though, you can just slice and dice once you've washed. Doesn't really matter how much of either, really depends on which type of squash you prefer, but I like to do 2 zucchini and 2 yellow squash usually, and put it in a 13x9 pan. I think some of mine fell out of the bag at the store though, because this was all I had in the refrigerator after my grocery trip, so two is all you'll see in the pictures.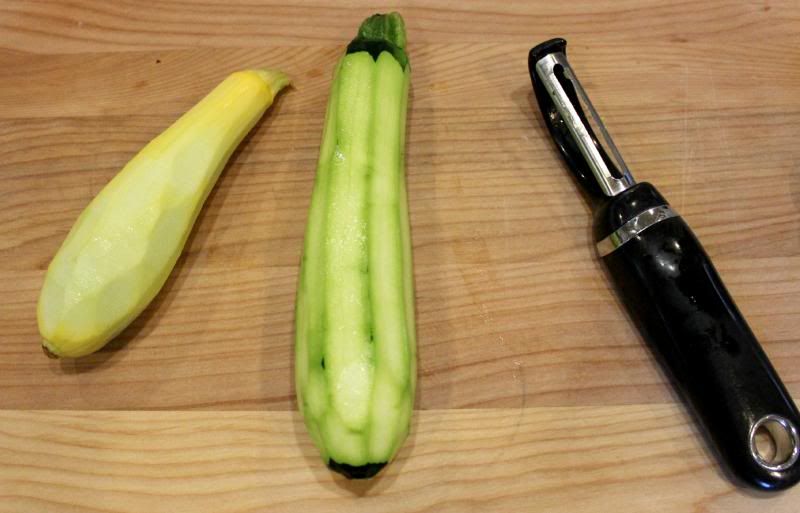 Then chop those babies up
Throw the squash in the boiling water until tender crisp... I forgot to take a picture of this step. Woops!
Next chop up a small to medium onion. Again, your choice. This recipe is like one of those choose your own adventure books! Dragon breath later? Chop more onion. If not, continue to next step...
Melt some of the good stuff in a pan. I used
way
too much, as I was trying to pare down my recipe to match my amount of squash, but then again, I don't think 'too much butter' is a real thing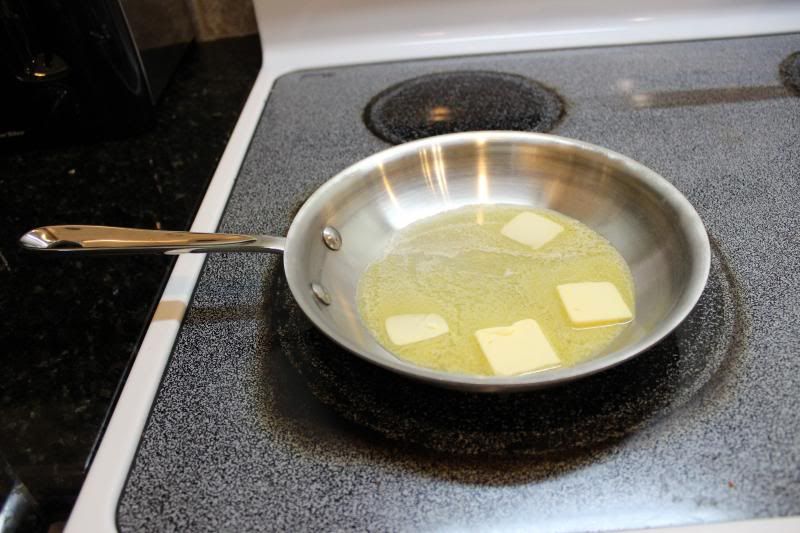 Now plop those onions in and let them get nice and translucent
They are swimming in a sea of butter. Mmmmmm mmmm....
While they are cooking up, drain your squash that were boiling and let them hang out in the pan off the heat for a bit while you finish up the next few steps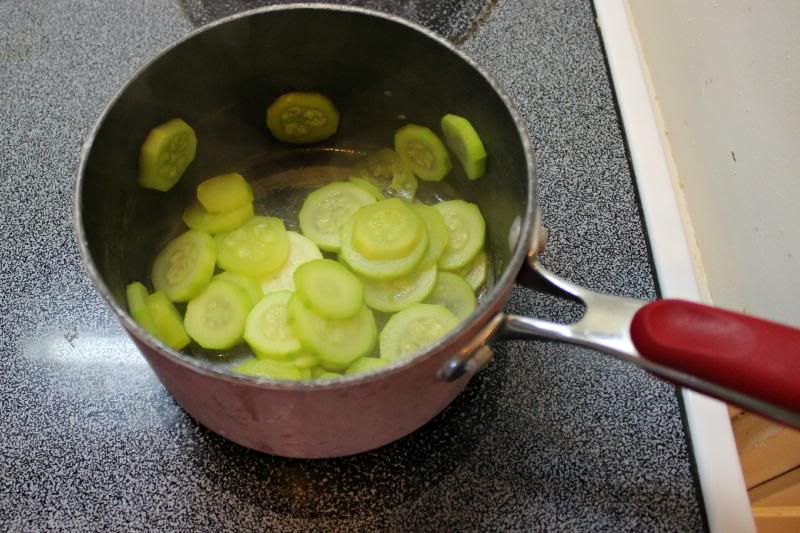 Get a medium mixing bowl and pour your
butter with onion
sauteed onion in
Now add a cup of mozzarella cheese. Or cheddar. Or Brie. The choice is yours, and yours alone.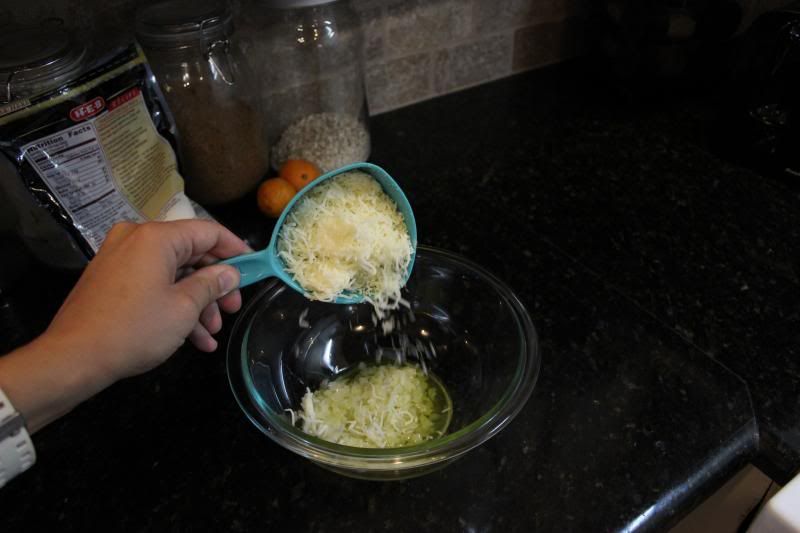 Half a cup of milk. I used whole, but whatever floats your boat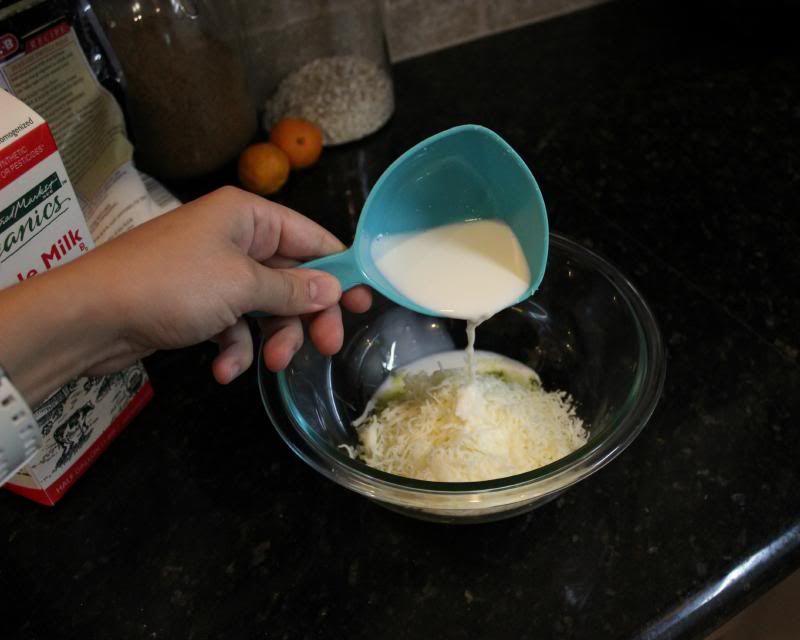 Add an egg (I am the worst food photographer EVER)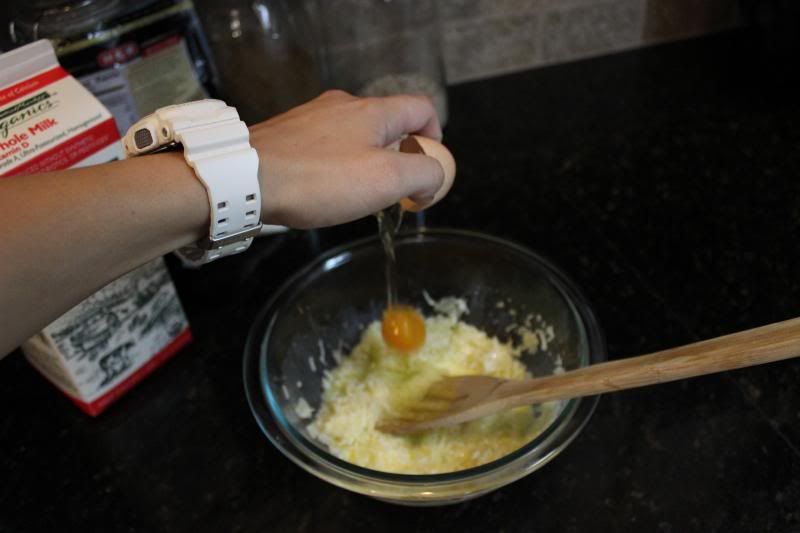 Then mix it all together. The heat from the butter and onion will melt the cheese and make it one lumpy, goopy, scrumptious concoction (P.S "goopy" is too a word SpellCheck, just ask Gwyneth Paltrow)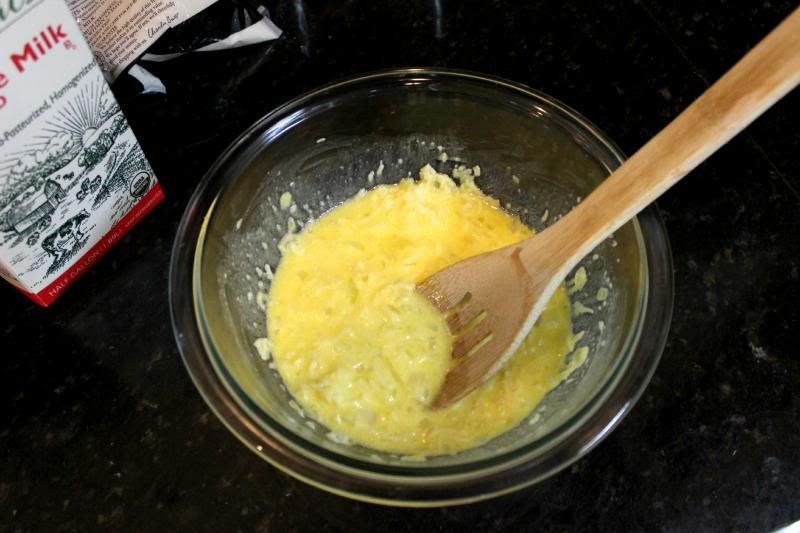 Now put a few tablespoons of butter in a pan and add a bunch of crushed Ritz crackers. For this I used one sleeve, but for a big 9x13 pan I'd say at least 2. Saute the Ritz until golden brown
While the are sauteing, set your oven to 350*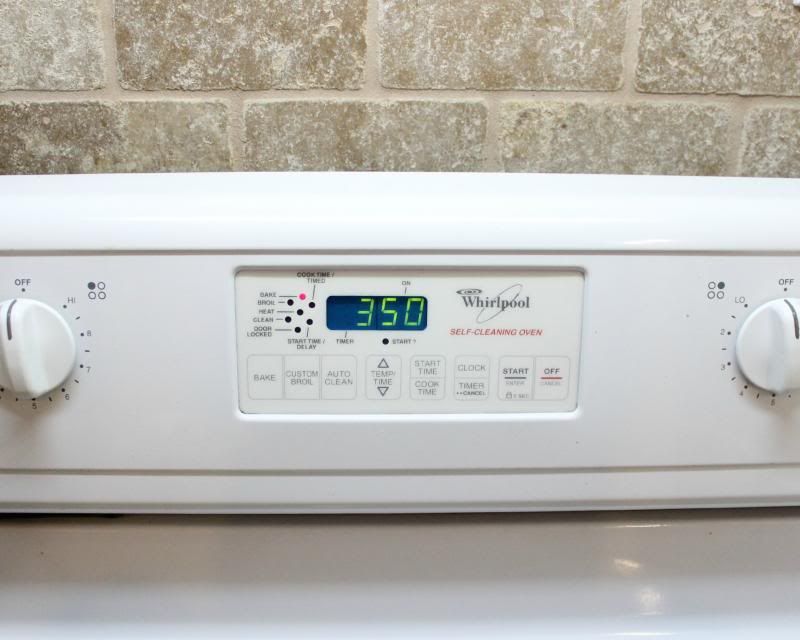 Now they're ready
And now
you
are ready to put it all together. Hence, "casserole"
Put the squash in first. Honestly, you can do this when it's done boiling, but for the sake of continuity, I am going to do it as one big step. Plus, I like the squash staying warm for some weird reason? (In the pictures, with just two pretty small squash, I used an 8x6 pan. And even though I still used one whole egg, etc. the recipe still tasted exactly the same)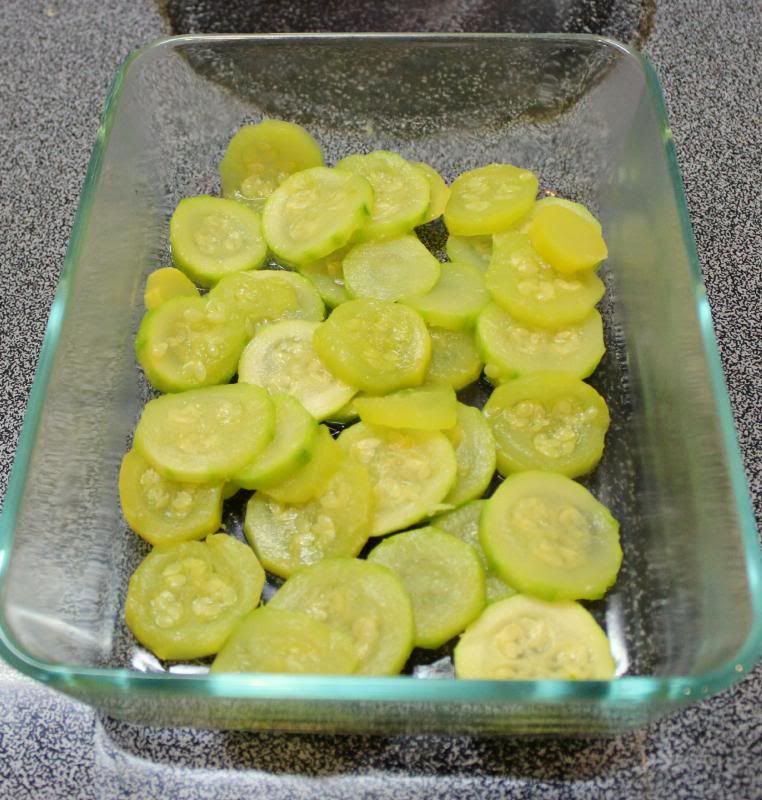 Next pour your onion, cheese, milk, egg mixture on top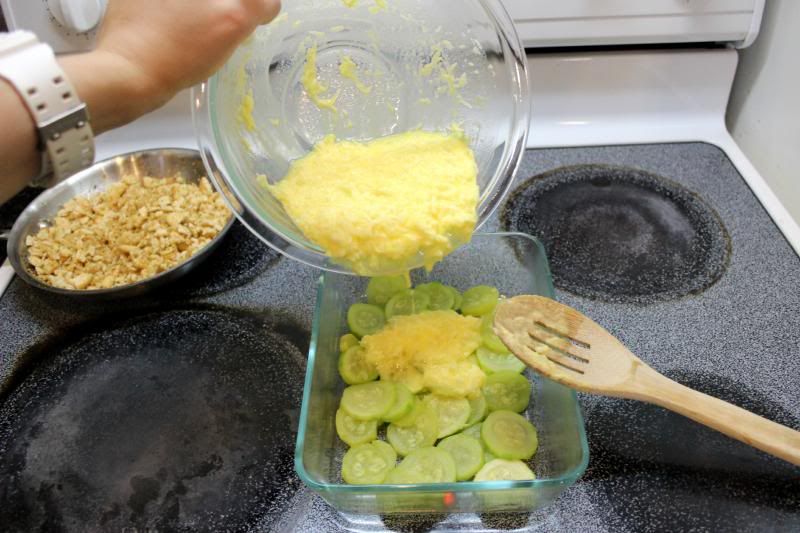 Yum-may! (5 points if you read that in an Ace Ventura voice)
Now top with those scrumptious buttery Ritz
Pop that lovely in an oven for 30 minutes... and VOILA!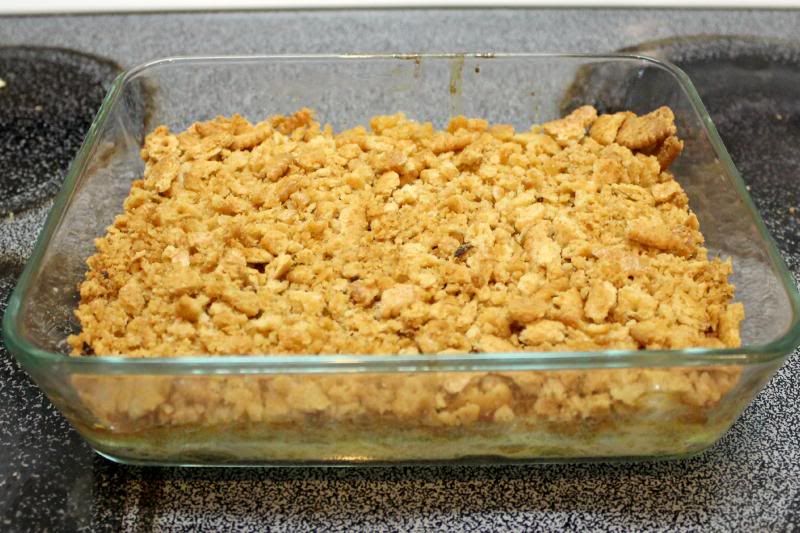 Fun story
When I was a kid my mom was cooking frozen veggies one night and I didn't like what she was serving, so she digs in the freezer and comes out with something different
"Well, I have these green beans made by... VI-Oh-luh"
"By who?"
"Vi-oh-luh"
"Mom, that says "Vwa-LAH"
"Ohhhhhhh"
I must say "VI-OH-LUH!", said in a thick southern drawl, just has a certain je ne sais quois to it
.
Wink wink.
Anyway
Try not to eat the whole thing
Bon Appetit!
Recipe:
Squash Casserole
3-4 Zucchini and/or Yellow Squash
1 stick of butter
1 medium onion
1 cup of mozzarella cheese
1/2 a cup of milk
1 egg
2 sleeves of Ritz crackers
1. Boil water
2. Peel and slice squash, boil until tender crisp
3. While boiling, chop up the onion
4. Melt 4 tablespoons of butter in a pan and saute onion until translucent
5. Drain squash and set aside
6. Pour onion in a mixing bowl and add in milk, cheese, and egg. Set aside.
7. Melt 4 Tablespoons of butter and Saute crumbled Ritz crackers until golden brown
8. Place squash in bottom of ungreased 13x9 dish
9. Layer onion mixture on top
10. Layer Ritz on top
11. Bake at 350* for 30 min.