If you're anything like me, you love a good deal. Especially when it comes to home furnishings since they can be
so
expensive in the store.
And if you're also anything like me, you may be leafing through a catalog and think, "I could make that!"
After the little lean-to shed on our barn fell down, I knew I had to do something with all the wood planks left over. Needing furniture, having an old fish tank stand, and reading approximately 536,794 pallet wood DIY tutorials later, I decided to make this Pottery Barn-ish piece:
I painted it black, put in invisible hinges, and put new hardware on it. As you can also see in the picture, you should never start working on a paint project, decide to lay down and rest your pregnant body and trust your husband will be sure to keep the little ones OUT of your aforementioned paint project.
*ahem*
but moving on...
I fished out the straightest boards I could find, carefully lifting them up prepared to run screaming should I find a tarantula, rattle snake/copper head, black widow, brown recluse, or any other delightful vermin that likes to hang out in wood piles. Then I screwed them down, and my husband lopped off the sides and sanded them down to make them nice and smooth.
I thought it looked great, but as you can see in the picture above, the dry, light colored wood was not really meshing with what I wanted goin' on. I was prepared to stain it, but being that I was pregnant, and then had a newborn, I knew it would be a project for way later in the future and left it at that.
That's when I discovered Tung Oil. It's a non-toxic way to finish wood furniture, or anything made of natural wood really . It is not quite as permanent or customizable the way a regular stain and sealer would be, but the application is super easy, and if you're just going for a richer look to your wood or to darken it up and give it a more rustic look, this is your cheap and easy answer. I also loved it because I could apply it right in the house and not worry about toxic fumes my babes would be breathing in. It will stain just about anything it touches though, so you'd have to use your discretion as to whether or not it needed to be applied in a more strategic location, say the garage, or not.
Here's what you need: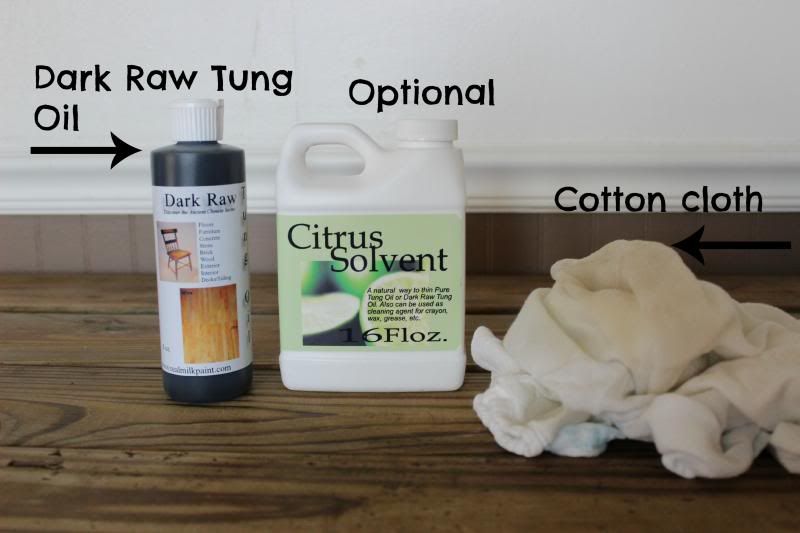 There is also regular tung oil that you can use to finish blonde woods, or use over colors you do not want darkened.
I bought the Tung Oil and solvent here:
Real Milk Paint
*This company has zero clue who I am, just letting you know my sources. Flour sack towels are from Wal-Mart. They definitely don't know me either
I bought the citrus solvent, but ended up not using it and only applied the tung oil straight to the wood. You are supposed to cut the oil with the solvent 1:1 to make application easier, but the directions also said you could just slap that stuff on there, and I was looking for the path of least resistance.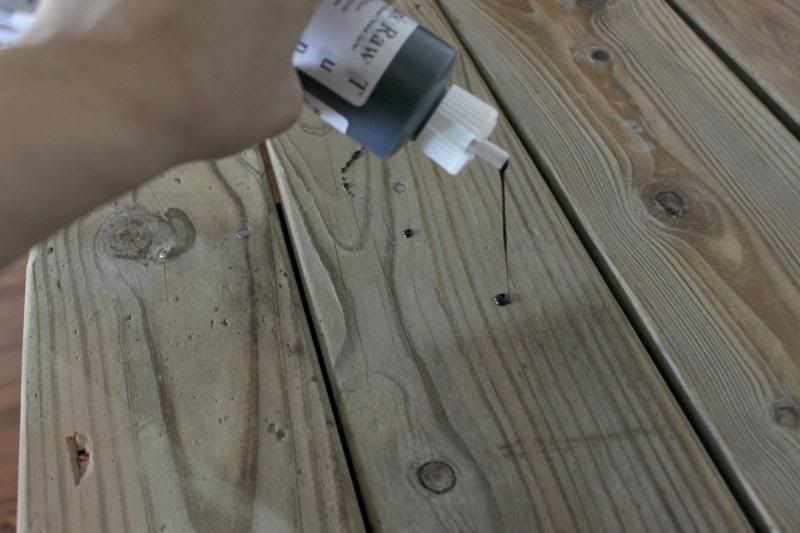 One tip I can give here is that if your wood is really, really, incredibly dry like mine was, then work in small circles and rub, rub, rub as soon as that oil hits the wood. Otherwise you end up with marks like this...
These really weren't a big deal since the more oil I applied the more it evened out until they disappeared but it did work a lot better using small circles and rubbing it in the with flour sack towel immediately before moving on. Like this: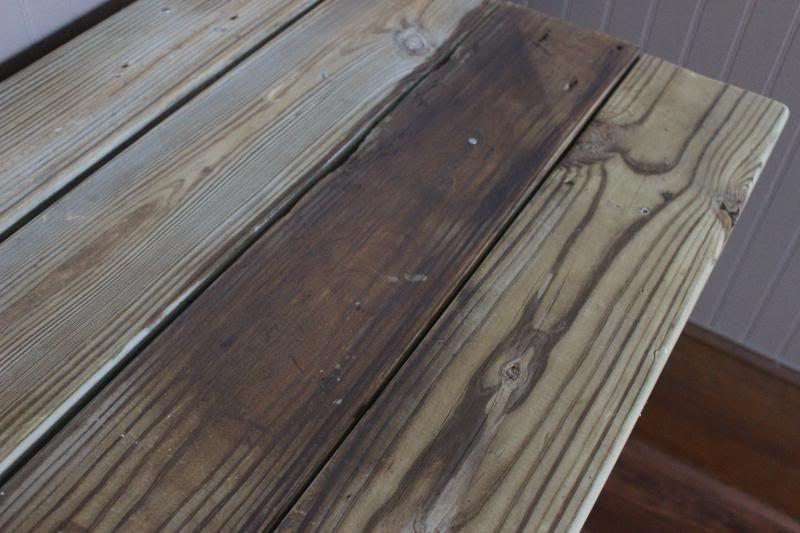 Here it is after one coat: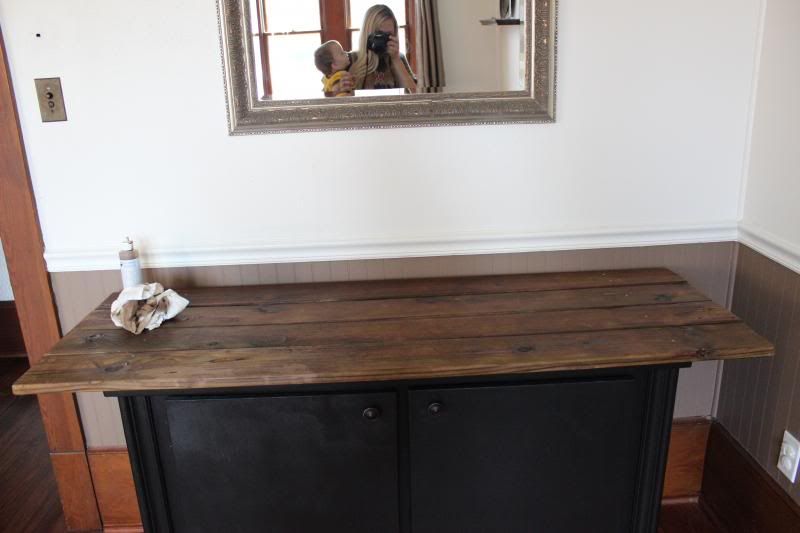 Do you see those spots on the front left board? That's where I spilled my foundation when I was doing my make-up one day in the mirror above. I couldn't see it until I started applying the oil, and it still pretty much looks like this:
Which sucks, but I think this is where the solvent may come in handy. I just haven't gotten that far since that will require me to take the piece outside and wear gloves. So be sure your wood is
really
clean before applying this stuff!
I bought the 8 oz. bottle, and this is all that I used in the first coat on some very thirsty wood.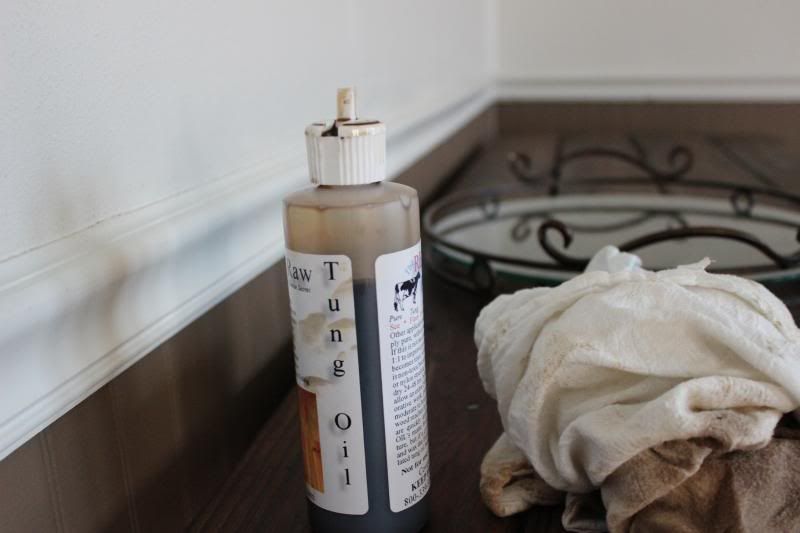 And here is how it turned out...
I used 2 thick coats total...
There is still a sheen to the top where it wasn't completely dry since it is so dang humid here, and those make-up spots are going to bother me until I go Lady Macbeth on it, but you can really see the difference side by side: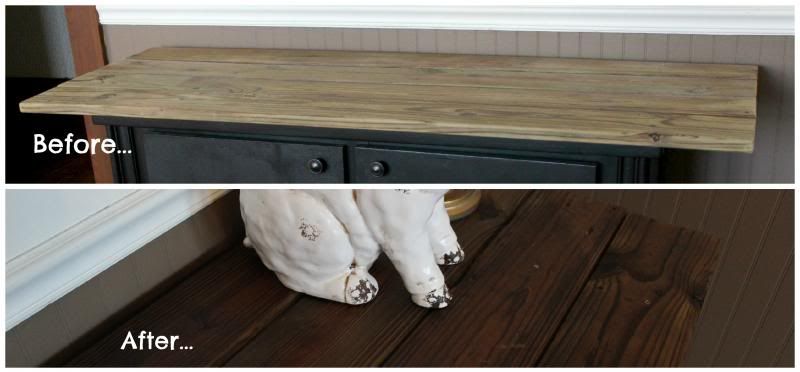 I love when things that were once total fashion faux-pas become in-style again... I'm not wearing a Jirt, it's called
Chambray, Dah-ling...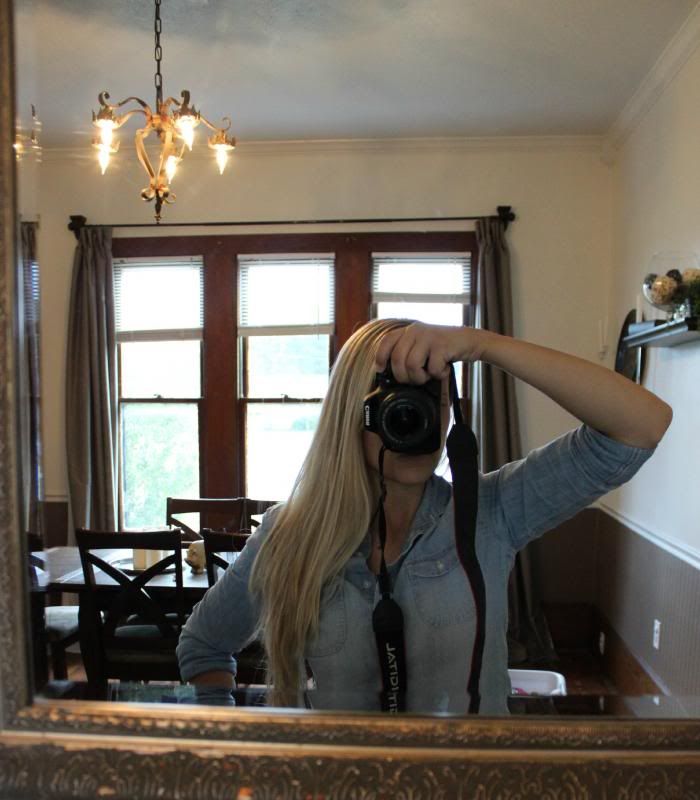 This is the next item up to be tung oil-ified:
Little man's high chair! He's watching TV while sucking pears out of a pouch because I'm an awesome mom.