Today was my biggest girls' first day of first grade. She was so excited, but also a little nervous. Last year and the year before she had been in the same little building, kept away from the "big kids", with their own playground, their own car pool lane, their own little corner of the school.
This year, she moved into the original school building, built in 1919. The rooms are huge, the bathrooms are in the hall instead of the room, there are coat closets, text books, and no more nap time. Her pancake sat half eaten at breakfast. Butterflies filled up what must have been a pretty empty tummy. Her excitement was slightly stifled with the unknown. The what if's. The unsure of's. But when we walked in this morning and saw all of her friends, and we got her all settled with her pink heart patterned pencil bag, I could see the tension easing. First grade is going to be great.
There were no tears from me this year. Seeing her happy and ready to start the year made this mama happy and ready to start the year. I just wish time would slow down a little tiny bit. I think back to six years ago and it seems like a lifetime, like a different person, a very young me with a baby, and a whole lot of unknowns.
Now this year, my husband and I walk our biggest girl, now the oldest of our 3, into her 1st grade classroom. 6 of the longest short years. This time another 6 years from now, I'll have a middle schooler, a new elementary schooler, and a pre-k'er.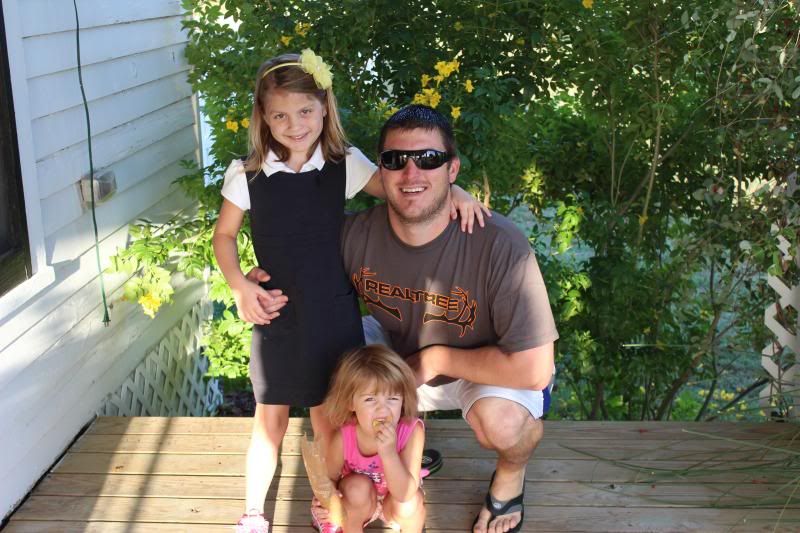 The only thing that stays the same is everything changes. Hope everyone else gets off to a great start to the school year!